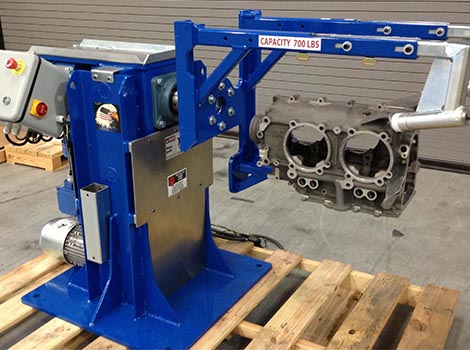 Work Smarter With The PowerStand
Make engine maintenance and assembly easier with unique engine stands from ROI Industries.
What Is a PowerStand?
Any good mechanic can attest to the difficulty of engine repairs. When it comes to mechanical maintenance, an engine stand is a must and ROI has the most sophisticated options. Our PowerStand engine block is much more than a placeholder for repairs. This durable, heavy-duty technology helps minimize the time you spend maintaining mechanical equipment. Whether you need help lifting, rotating, or transporting your equipment, the PowerStand system can help make your tasks easier.
Why Do I Need It?
If you want to cut down on labor time, then a PowerStand is the perfect piece of equipment for you to invest in. The PowerStand is the most reliable engine stabilizing system in today's market. It's many functions help streamline mechanical repairs and maintenance. It's adaptable to fit any size engine. Its user-friendly interface allows for easy assembly and ergonomic controls. The robust mounting head is adjustable for all weights and heights. And with 360-degree rotating capability, you won't have any problems stationing the equipment in the most appropriate position.
Rotating Engine Stands
Optimally designed to aid in assembly, maintenance, and repair work for larger engines, ROI's rotating stand allows operators to easily manipulate the workpiece into the desired orientation and height using simple, ergonomic push-button controls. With a robust mounting bracket and industry-leading safety standards, our rotating engine stand is a great option for any facility specializing in engine work.
Diesel Engine Stands
Ideal for working on heavy-duty diesel engines, ROI's diesel engine stands are perfect for any facility looking for flexible assembly, maintenance, and repair work options. The stand gives workers the opportunity to manipulate equipment as needed, including unique height options and ergonomic controls. The user-friendly interface and adjustable options are ideal for facilities looking to streamline the way they work on diesel engines.
Take Advantage of a Heavy Duty Engine Stand
At ROI, we work tirelessly to simplify the way machine handlers operate. We're a technical workforce with a deep commitment to solving large and small problems. Our team of problem solvers is always ahead of the curve on the latest technologies and ergonomic trends. With us, expect a cutting-edge solution for all of your mechanical needs. Whether you just need to tune up an engine or replace the entire system, our selection of rotating engine stands and diesel blocks can help you streamline the whole project.
Interested in leveraging the benefits of PowerStand technology? Check out our blog for complete details and explore our product gallery to find the right solution. And once you've found the perfect system, reach out to our team to claim your free quote!