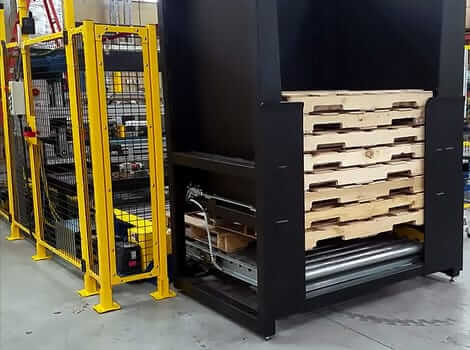 Pallet Stacker & Dispenser
Looking to increase workflow without driving up production costs?
Make Working With Pallets Easier
Streamline Productivity
Part of maintaining a high-production work environment is having all of your machines and products in the right place. With high-quality pallet dispensers from ROI, you'll be able to fully-integrate your product lines without skipping a beat. Custom-made for industrial applications, pallet dispensers give you the opportunity to allocate time and resources toward other critical production areas, knowing that your pallets will be where they need to be. Automatic pallet dispensers can be coupled with ROI's PALLETPOD product suite, but can also be sold separately as stand-alone units. Benefits of  pallet dispensers include:
Elimination of manual pallet handling

Reduction of employee injury due to removal of manual pallet handling

Increased production while minimizing time and labor involvement

Minimal floor space used for storage and staging for pallet stacks

Minimal pallet damage

Stand-alone models offer simple stacking and dispensing

Multiple pallet footprints and design accommodations
Seamless Integration
At ROI, every solution that we offer our clients is geared toward improving their workflow for smooth, efficient product integration. We recognize how difficult it can be to find technology that simultaneously keeps operating costs at a manageable price while also increasing productivity. Whether it's pallet dispensers, conveyors, or load transferring equipment, it can be a challenge to connect everything in one seamless process. 
That's why we offer PALLETPOD in addition to our other machinery and automated equipment. PALLETPOD comes complete with technical options designed to optimize your facility's operations without breaking the bank. PALLETPOD brings several benefits for plant managers, including:
Problematic labor replacement, including the elimination of repetitive motion risks while allowing stacking of square and stable loads to full height to minimize freight costs.

Compact, mobile footprint fits into existing tight spaces, typically taking up only as much space as is already used for manual palletizing.

Modular flexibility to dramatically minimize hassle and ensure optimal project customers, and limit use of unnecessary technical resources.

Financial incentives realized in as little as one year. A PALLETPOD lease or rental can immediately lower costs for 1-shift, 2-shift, and 3-shift operations.
Increase Production
One of the hardest parts of improving the performance of your facility is finding the right technology that fits your space, budget, and production requirements. With PALLETPOD, you'll be able to perform at an exceedingly high level without disrupting the area you operate in while cratering to your budget for the year. Replace cost-increasing inefficient manual labor with the PALLETPOD and pallet dispenser for ROI—our job is to continually find exciting ways to make your production easier. With our high-quality automated product suite, we've done just that. Find out how ROI can make things simpler for your facility, and reach out to our dedicated team today.