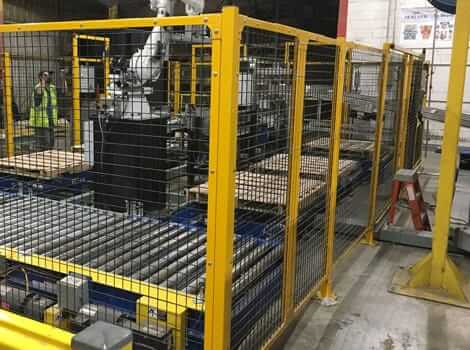 Low Level Pallet Conveyors
Custom-tailored conveyors to match your height requirements
The Right Equipment
Not every company has the exact same production requirements; one of the biggest areas where a plant manager might run into some issues is trying to find specific equipment to meet their specific requirements. Whether that's finding the right machinery for their spacing requirements, budget, or projected workload, it can be exceedingly difficult for a facility manager if they don't have the right resources. That's why ROI offers high-quality, low-level pallet conveyors. Most of our competitors conveyors are 16" off the ground, but our low-level pallet conveyor remains at a manageable 4", keeping z-access as low as possible.
Couple Your Conveyor With PALLETPOD
ROI offers more than your every day, one-size-fits-all solution. When combined with our cutting-edge PALLETPOD, the low-level pallet conveyor satisfies unique needs that are specific to your company. The PALLETPOD offers several high-quality options, including:
How Can PALLETPOD Help?
Every facility has criteria that they need to meet. Shouldn't you implement automated machinery that helps you achieve your goals? The PALLETPOD is designed to do just that; ROI recognizes that maintaining a high-production without sacrificing quality, timeliness, and safety standards is critical. The PALLETPOD is built to fit seamlessly into your plant and complete projects more efficiently without compromising quality or safety. No more falling behind with ill-fitting equipment that's not right for your space. Some benefits of the PALLETPOD include:
Labor replacement by eliminating repetitive motion risks, while allowing stacking of full, stable loads to full height, minimizing freight costs.

Compact, mobile footprint fits into existing tight spaces. PALLETPOD doesn't take up any more space than what is currently being used for manual palletizing, so production line reconfiguration is not required.

Modular flexibility dramatically shortens project times for customers, significantly reducing customers' use of technical resources.

Immediately lowered costs with a PALLETPOD lease or rental.

Online placement between shifts with limited operational disruption, with two-hour initial installation and 30 minutes of training.