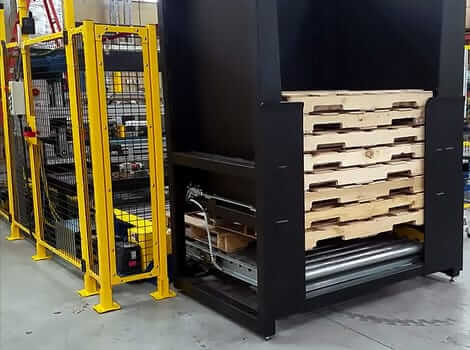 Mobile Dual Station Palletizers and Depalletizers
Streamline productivity for multiple pallets with PALLETPOD 
How Efficient Is Your Line?
Optimizing a palletizer is already tricky enough if you're relying on manual labor or rudimentary robotic equipment. When you have to incorporate two unique lines and create a mixed batch of products, whether it involves stacking pallets by color, product, or an alternative category, it only adds to the headache. 
If you're constantly running into issues with your palletizing, it's time to start using PALLETPOD's Mobile Dual Station Palletizer. Complete with End of Arm Tooling (EoAT) that cohesively stacks products from two Stock Keeping Units (SKUs), the PALLETPOD will adapt to your specific production requirements, helping your entire plant run more smoothly. The Mobile Dual Station Palletizer can help you:
Replace problematic labor by eliminating repetitive motion risks and common workplace injuries that happen to workers who specialize in palletizing.

Reduce your footprint in terms of energy efficiency and plant space, so you take up less room and cause less harm to the environment with one user-friendly, efficient palletizer machine.

Increase production by simultaneously organizing pallets from different lines.

Decrease long-term operation costs by reducing wages paid to manual laborers and resources needed to complete a project.
Make Production Easier
Time and time again, we hear our clients lamenting the same problems—their workers were injured and can't operate at the same capacity as they did before; they're running out of space in their warehouse; they're producing at a slower rate and higher cost than they need to be. At ROI, our job is to make sure you have all of the tools and resources you need to optimize the workflow at your plant and produce at a high volume without driving up costs. With PALLETPOD, you'll be able to pallet specific lines more efficiently than ever before. ROI's product line provides a solution for these problems:
High-cost, high-risk manual labor—palletizing jobs are notoriously difficult to fill, and turnover and absenteeism are increasingly common.

High-density facilities with minimal room for new equipment and safe production.

Costly equipment that requires twice as much energy and resources to perform a single task.
Increase Productivity
Every solution we offer for our clients is geared toward making their lives easier. No more languishing behind industry standards with outdated equipment. We want to streamline your material handling space and make high-level productivity more attainable than ever. With our palletizer equipment solutions, your business can handle more pallet loads at lower costs, and produce high-quality work for your clients and customers. To find out how our cutting-edge technology can optimize your workspace, reach out to our team today.