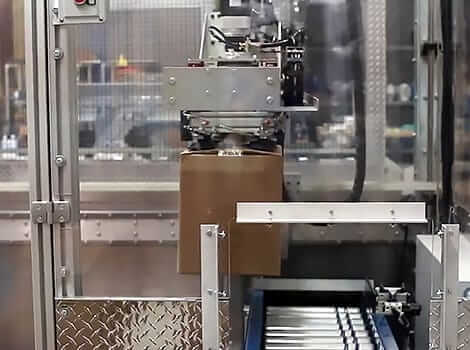 Mobile Stretch-Wrapping Palletizers
Maximize performance with a comprehensive 2-in-1 solution from ROI Industries. Single station machines take up less space, increase productivity, and keep capital costs low.  Combine the two processes of palletizing and stretch-wrapping with one simple machine.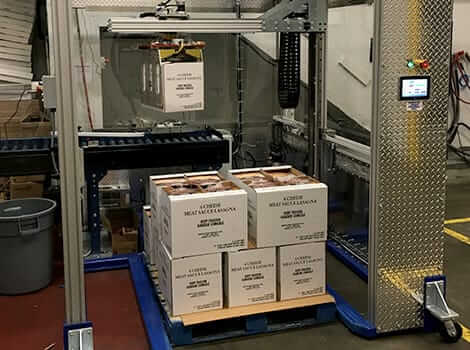 A Two-Fold Solution For Cohesive Operations
Between palletizing and stretch-wrapping, it can be hard to complete projects on time if you're working with outdated equipment and unproductive manual labor. That's why PALLETPOD offers a unique hybrid Mobile Palletizer with In-Process Stretch Wrapping capabilities. 
With one cutting-edge machine that takes care of both tasks, you won't have to allocate as much time, space, and money to completing projects on time. At ROI, our job is to make your plant run as efficiently as possible through our high-level palletizer and stretch-wrapper solutions. With PALLETPOD's unique End of Arm Tooling (EoAT) options, including an automatic stretch wrap machine and palletizer, you'll be able to get more work done.
Why Do You Need A PALLETPOD?
One of the most persistent problems facing a plant manager is the unreliable manual labor required for high-quality palletizing. Between sick days, labor-related workplace injuries, and high wages for specific projects, plants can often run into production issues. That's where PALLETPOD comes in—no more relying on a solution that doesn't increase efficiency or keep costs low. With its Mobile Palletizer and In-Process Stretch Wrapping functions, PALLETPOD can boost production while making sure you don't fall victim to issues that many facility managers deal with, like:
Unreliable labor and absenteeism, which decrease productivity

Shipping partial-height loads to accommodate workers' injuries and high operation costs

Not enough available space in the plant to complete projects efficiently

Complex palletizing solutions that add extra frustration and stifle production

Conventional palletizers that cost more than most companies can afford, with minimal rental options available
PALLETPOD robotic palletizer and pallet-wrapping solutions help you avoid these problems by automating these tasks. This will eliminate manual stretch wrapping and palletizing from your warehouse, reducing your labor costs and workplace injuries while increasing your business's overall productivity.
Simplify Your Life With ROI
At ROI, we're always looking for new ways to help your plant run smoothly. With high-quality equipment that combines two unique processes into one machine, PALLETPOD is the best of both worlds for increasing productivity and cutting costs. PALLETPOD offers unique features including:
Problematic-labor replacement, which eliminates repetitive motion risks and workplace injuries

A compact footprint designed to take up as little space as possible

Increased production, with less time spent on a specific project