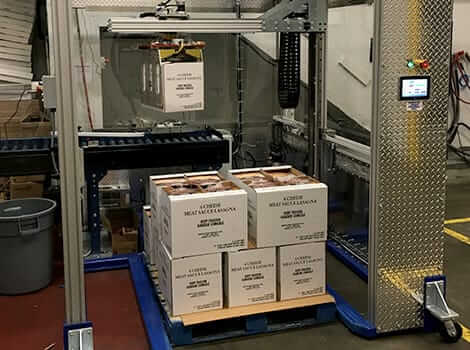 Mobile Compact Palletizers
Reduce complexity and increase production with a PALLETPOD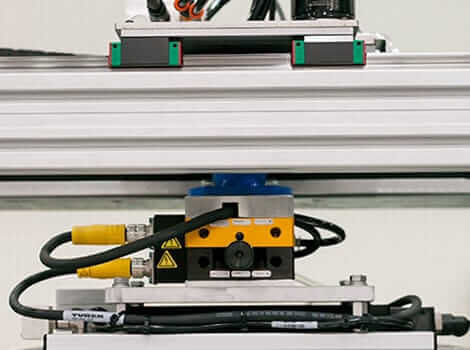 Upgrade To A PALLETPOD
Every solution you use in your warehouse should increase productivity without compromising quality. That's why ROI developed the cutting-edge PALLETPOD, complete with a Mobile Compact Palletizer tool that makes warehousing easier. With unique End of Arm Tools (EoAT), the PALLETPOD offers a high-quality solution for facilities looking to improve their material handling capabilities and their applications' suitability. The PALLETPOD also offers financial benefits including:
Problematic-labor replacement, including the elimination of repetitive motion risks and workplace injuries

A compact footprint designed to take up as little space as possible

Increased production, with less time spent on a specific project
The Mobile Compact Palletizer machine with PALLETPOD will help your plant say goodbye to production difficulties for good. Modernizing your equipment is the most critical step you can take for improving operations; with PALLETPOD, cumbersome issues will become a thing of the past. Simple to operate and cost-effective to install, it's everything you could want in an employee. The only difference? This employee doesn't take sick days.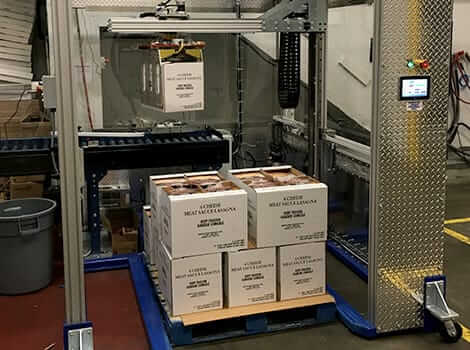 Why Use A Mobile Compact Palletizer?
One simple reason: It makes your entire plant run more smoothly. PALLETPOD streamlines the way you operate, mitigating the chances of a worker injuring themselves on the job or the need to take a quick break. Manual palletizing is generally viewed as one of the least desirable jobs in a plant, and many of the issues across the industry have made PALLETPODs a necessity.
Labor is hard to come by, and absenteeism is increasingly prevalent.

Companies have to ship partial-height loads to accommodate workers' injuries and high operation costs.

Not enough space is available in the plant to get work done efficiently.

Complex palletizing solutions add extra frustration and stifle production.

Conventional palletizers cost more than most companies can afford, and minimal rental options are available.
ROI has worked tirelessly to improve our PALLETPOD solution so it makes every project easier to manage. Using a PALLETPOD eliminates all of these issues.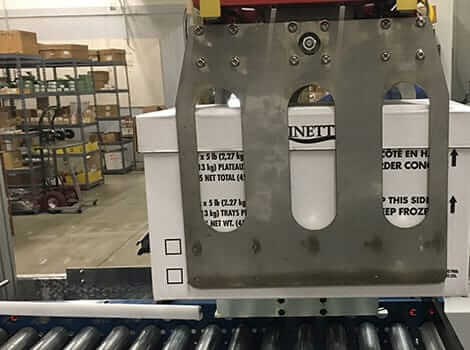 A Better Alternative To Manual Labor
If you're stuck paying workers for one-shift operations with a $15 or higher hourly wage, a PALLETPOD lease or rental is extremely cost-effective. If you're paying for a two- or three-shift operation, the financial return scales even higher. Our goal is to save you time and money; no more wasting precious resources that don't yield satisfactory returns for your plant. Every solution we deliver is geared toward improving the functionality for your facility. 
Isn't it time you made operations easier? Automation could be your clear answer. Whether you need an automatic box palletizer or an automatic bag palletizer, our PALLETPOD solutions can help you manage your pallet loads. If you want to see how much more effectively you can automate your warehouse pallet solutions without depleting your budget, contact ROI today.