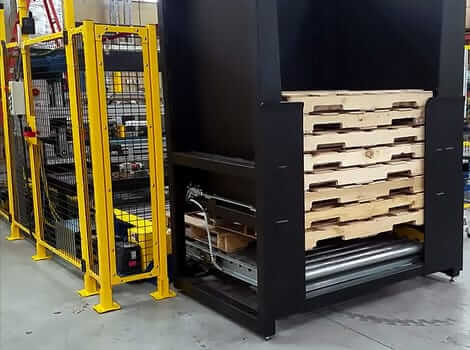 Mobile Compact Depalletizers
Streamline your plant's workflow with ROI's PALLETPOD
One Piece Of Equipment = Multiple Jobs
When it comes to palletizing and depalletizing materials, most facilities rely on several specific pieces of equipment. Rather than forcing you to look after a collection of machines in your warehouse, ROI wants to make your life easier. Remove the complications from your day-to-day operations with the PALLETPOD.
Equipped with a Mobile Compact Depalletizer add-on, the PALLETPOD offers a single-station alternative to overcrowded, expensive depalletizer equipment. With the ability to function as a dedicated tool or as an add-on, the Depalletizer offers End of Arm Tooling (EoAT) including a dispenser, tool changer, clamping system, and vacuum gripper. At ROI, all of our equipment is optimized to provide facility managers with a cost-effective, production-friendly solution for all of their pallet needs. The PALLETPOD offers several benefits, including:
Problematic-labor replacement that eliminates repetitive motion risks, so boxes and cases can be stacked to their full height, minimizing freight costs.

A compact, mobile footprint that fits into your existing tight spaces, typically not taking up any more space than your current manual palletizing space. Production line reconfiguration is not required when implementing a PALLET

POD

.

Modular flexibility that dramatically shortens physical effort and project times for customers, significantly reducing customers' use of technical resources.

Immediately lower costs with a PALLET

POD

lease or rental option.

Online placement between shifts with limited operational disruption. Get two-hour initial installation time and 30 minutes of training.
Optimize Your Facility
When it comes to running a functional process, you need equipment that can get the job done. No more wasting time with machinery that has a single function, taking up more floor space and capital.
With ROI, we've optimized the PALLETPOD to deliver everything you're looking for in a robotic palletizing and depalletizing machine. We're tired of hearing our customers come to us with the same problems—that's why we built a solution for them that puts them in a better position to deliver exceptional, high-quality results without going over budget. PALLETPOD helps facilities avoid problems that include:
Inefficient manual labor that leads to injury, work absences, and other factors that compromise productivity.

Spacing issues, including a machine-dense workspace that prohibits workflow and causes accidents.

Slow production times stemming from outdated machinery performing specific functions. 
Make sure you're getting the most from your machinery with an accommodating suite of options from PALLETPOD. Our palletizing systems condense the amount of machinery needs to stack boxes, bags, and cases. We can help you deliver high-quality results with our material handling solutions. Reach out to ROI today, and find out how we can revolutionize the workflow for your plant.