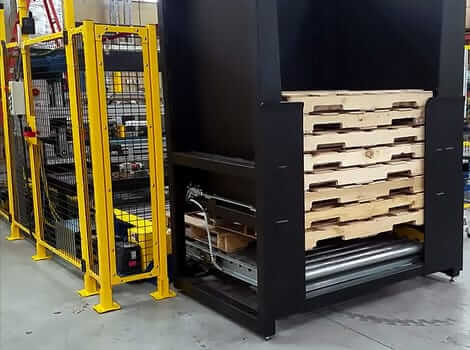 PalletMate Pallet Stacker & Dispenser
Streamline efficiency without cutting corners.
Is your plant using the right machinery?
Ergonomic Equipment
Every solution you implement for your facility should help the production cycle, not hinder it. That's why ROI created PALLETMATE; with an ergonomic design that's ideally suited to help employees stack pallets more effectively and safely, PALLETMATE makes your entire plant operate more efficiently. With cutting-edge, user-friendly stacking and dispensing capabilities, it's the best of both worlds for whatever project you're working on. With two key features for dispensing and stacking, the PALLETMATE can help you by:
Isolate a pallet from a specific stack before discharging it onto a conveyor
Lifting, positioning, dispensing, and stacking pallets for release or pick up
Removing the need for inefficient, unreliable manual labor
At ROI, every solution we offer is geared toward optimizing the way you work. With high-quality automated products that reduce the workload on your employees and save your facility money. We make it easy to maximize your production.
Why Should I Automate?
If you're stuck working with outdated equipment or relying on an expensive, injury-prone workforce, it's time to update your plant. ROI's unique pallet stacking and dispensing solutions help you operate at peak efficiency, without costing you a fortune. Our machinery reduces cycle time and lengthens your pallet's lifecycle so that you can produce at a higher rate. No matter what you're looking to tackle next, we guarantee that we can find the perfect solution for your facility. Benefits of working with ROI's automated machinery include:
Decrease in workplace injuries stemming from manual labor. With guidelines limiting manual weight and stacking height, several companies are forced to ship partial-height loads, but not with PALLETPOD or ROI's other equipment.
Compact, mobile equipment fits into tight, confined spaces. Our technology doesn't take up more space than what's currently being used for manual palletizing.
Swift, reliable financial payback in as short a time-span as a single year.
Modular flexibility shortens effort and project time allocations for customers, reducing reliance on technical resources.
The Right Equipment
You might be using the right kind of equipment, but it may not be fully optimized for the scale, pace, and budget you have in mind. Just because you're utilizing certain technology now doesn't mean you have to stick with it for the long haul—with ROI, our goal is to help businesses realize their full potential by prescribing the perfect solution that aligns with their long-term goals. No more wasting time and money using machinery that's not right for you; reach out to our dedicated team today, and find out how we can make your next project the most efficient yet.