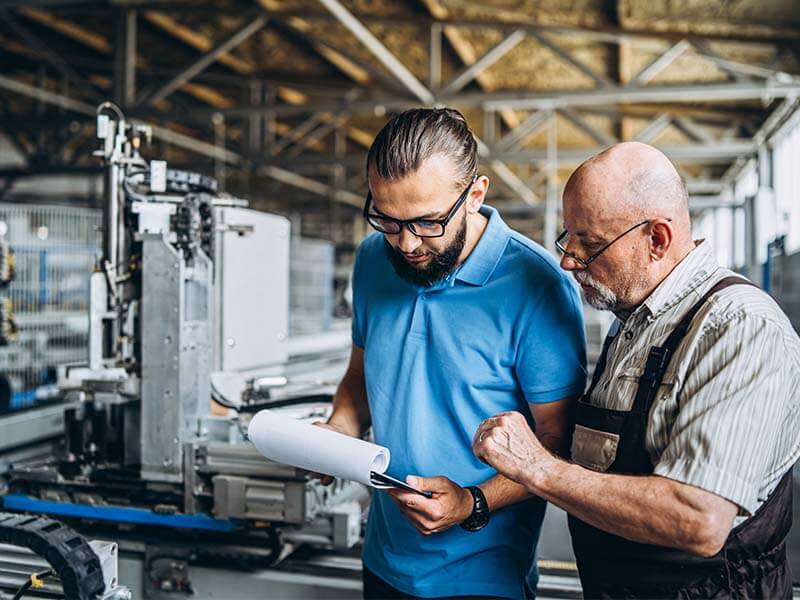 Contracting
Find the right solution for your facility with ROI
Custom-tailored approach for a perfect fit.
Custom Engineering Services
When it comes to the equipment you use on a daily basis, you need to make sure that it's a perfect fit for your unique facility. That's why ROI offers high-quality custom engineering services and a pre-consultation offerings for businesses looking to expand the scope of what their technology can handle. We specialize in helping our clients navigate the industrial automation field, helping them install cutting-edge technology for their facility. Our technology solutions include our PALLETPOD product suite, user-friendly engine stands, palletizing equipment including stackers and dispensers, and End of Arm Tools (EoAT).
How Can Using Automated Equipment Help My Facility?
Every year, automation becomes a more critical aspect of any facilities strategy for achieving optimal productivity. Integrating new technology into your existing environment without disrupting workflow and causing your budget to plummet can be tricky—that's why ROI offers industrial custom-tailored robotic systems integration for facilities looking to improve functionality without sacrificing up-time and bottom-line profits. ROI offers solutions that work in tandem with your facility to identify what it is you need to reach peak performance levels, industry-wide safety standards, and long-term stability. Robot integration can improve your plant by:
Increasing productivity

Lowering long-term costs due to the absence of hourly wages

Implementing user-friendly controls that can be handled onsite and remotely

Increasing reliability of workload through elimination of problematic manual labor (and the workplace injuries and the issues that come with it)

Making your space more efficient and less crowded
 How can automation improve your facility?
Let ROI help design an automated manufacturing floor for your business.
What Pallet Sorting Equipment Does ROI Offer?
Whether it's combining two separate product lines, sorting pallets, or effectively dispensing them at a satisfactory rate, ROI has a high-quality solution. Our PALLETPOD product suite also offers significant advantages to facilities looking to streamline their production process. Variations of the PALLETPOD include:
Mobile Dual Station Palletizer

: 

Efficiently coordinates the palletizing and sorting for two unique lines to create a mixed batch based on color, product, or other criteria.
Mobile Compact Depalletizer

: 

Available in each of the above-listed machines,the depalletizer is a single-station machine that can comfortably accommodate dispensers, tool changers, clamping systems, and vacuum attachments.
Benefits Of The PALLETPOD?
ROI's seamless product integration gives companies the opportunity to allocate time and resources toward other critical production areas, knowing that your pallets are right where they need to be. Automatic pallet dispensers can be coupled with ROI's PALLETPOD product suite, but can also be sold separately as stand-alone units. Some of the PALLETPOD benefits include:
Elimination of manual pallet handling

Employee injury reduction due to removal of manual pallet handling

Increased production while minimizing time and labor involvement

Minimal floor space used for storage and staging for pallet stacks

Minimal pallet damage

Stand-alone models offer simple stacking and dispensing

Multiple pallet footprints and design accommodations